Induction quenching machine mainly consists of machine tool, medium or high frequency power and cooling device. Amongst,the machine tool consists of lathe bed, baiting device and clamping and rotating device. Generally, quenching machine tool is singlestation.However, it can be divided into vertical and horizontal type from the form.
Quenching Machine Introduction
● Suitable for quenching and tempering of various workpieces, such as induction hardening of shafts, gears, guide rails, disks, pins, etc .;
● With continuous quenching, simultaneous quenching, segmented continuous quenching, segmented simultaneous quenching and other functions;
● Use CNC system or PLC and variable frequency speed control system to realize workpiece positioning and scanning, and connect with induction power via PLC to realize fully automated production.
● Vertical (hardening of shaft parts) + horizontal (hardening of ring gear parts)
● Numerical control system, which can compile and store various quenching process programs according to different workpiece requirements;
Main features:
Ø It has the characteristics of energy saving, environmental protection, intelligence, automation, less oxidation and less deformation;
Ø High control accuracy and degree of automation, good consistency of workpiece quality after heat treatment, consistent quenching and hardening layer;
Ø No manual adjustment is required during the quenching process, the equipment automatically completes quenching, high heating efficiency and low labor intensity;
Ø With continuous quenching, simultaneous quenching, segmented continuous quenching, segmented simultaneous quenching and other functions;
Ø Adopting the workpiece moving mode, it can realize continuous scanning quenching, segmented scanning quenching, and segmented overall quenching of quenched parts;
Ø Steplessly adjustable: quenching speed and working speed;
Vertical quenching machine
1. This machine is a vertical assembly workpiece. The workpiece is lifted or controlled by numerical control, and the workpiece itself can be adjusted and rotated to achieve uniform quenching.
2. The machine has four functions: gear rapid dip quenching, plane scanning spray quenching, shaft type integral quenching, shaft multistage spray quenching, and optional custom fixtures to increase the crankshaft quenching function. Mainly used for high precision quenching of various gears and shafts.
3. It is made of thick sheet metal, which is very rigid and strong in structure.
4. A large number of linear precision guide rails, double-axis guide rails, small lead ball screws and counterweights are used to ensure the accuracy of machine tool movement.
5. The electrical components adopt imported brand PLC or CNC, servo main motor, stepping motor and pump to control accurately and stably.
6. The lower thimble can be replaced with different diameters, which is convenient for adapting to different diameter shafts. The chuck can be used to quench the gears.
7. The upper thimble is easy to disassemble and assemble, which can expand the clamping length twice, greatly improving the applicable range of the workpiece.
8. The water tank is up to 600-700CM, and the pump automatically controls the liquid level of the water tank to facilitate the rapid dip-quenching function of the gear.
9. The machine has six models according to the clamping length: 500CM, 1000CM, 1500CM (by moving workpiece), 1500CM (by moving induction coil), 2200CM, 3000CM.
Advantages of the quenching machine:
Ø The Sinfor quenching machine line was developed with the latest 3D CAD software and FEA design tools.
Ø The base frame is built on solid, highly accurate stress-relieved welded components. The drive technology, slides and motion control system are state-of-the- art and comply with the latest DIN and CE requirements.
Ø Our control and measuring technology is customized to the requirements of today's heat treatment tasks and the necessities of our customers: Process energy sensor control, deviation fault monitors, data recorders, quench volume and temperature control, for example.
Ø High efficiency levels and precise heat input results in low energy consumption and best life cycle costs. The generators feature the latest IGBT technology and are protected against short circuits and running without a part present. Accidental coil contact with the part will not harm the system.
Ø The CNC quenching is fitted with an X, Y and Z axis for positioning the inductor versus the work- piece, a main spindle drive for workpiece rotation, as well as a temperature and thus flow-controlled spray for the quenching medium. A tailstock module with centring pin enables secure clamping of workpiece between the centring points. Loading of the unit can be per- formed either manually or automatically within the process chain with the aid of a loading module. In combination with a 180°adapter plate this can also be carried out in parallel with heat treatment.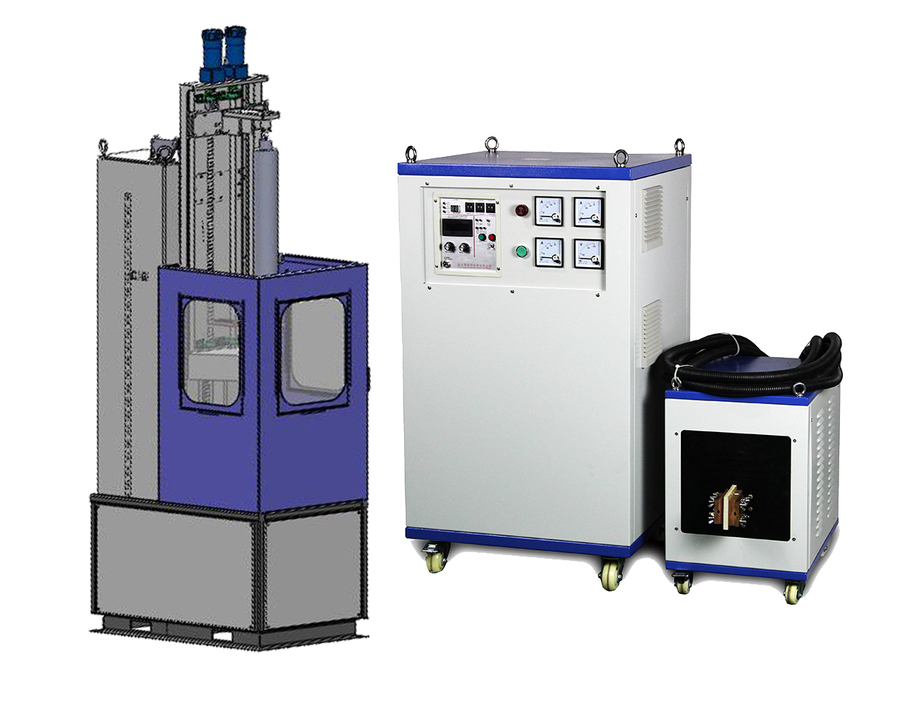 | | |
| --- | --- |
| Model | LSXQ-500-G |
| Rapid dip quenching | √ |
| Scanning quenching | √ |
| Overall spray quenching | √ |
| Sectional quenching | √ |
| Water temperature control | √ |
| Water level control | √ |
| Lifting limit | √ |
| Access control | |
| Clamp length (mm) | 0-500mm |
| Max. Distance (mm) | 0-550mm |
| Max turning diameter (mm) | 400mm |
| Max bear weight (kg) | 100kg |
| Quenching feeding speed (mm/s) | 0-200mm/s |
| Workpiece rotation speed (mm/s) | 0-200mm/s |
| Control system | PLC + Touch screen control system |
| Lifting way | By moving the work-piece |
| Lifting rail | Linear precision guide |
| Water cooling sytem | spray water or spray liquid |
| Lifting accuracy | 0.5‰ |
| Rotation accuracy | 0.5‰ |
| Thimble clamping | Spring + Counterweight |
| Thimble guide rail | Double shaft guide |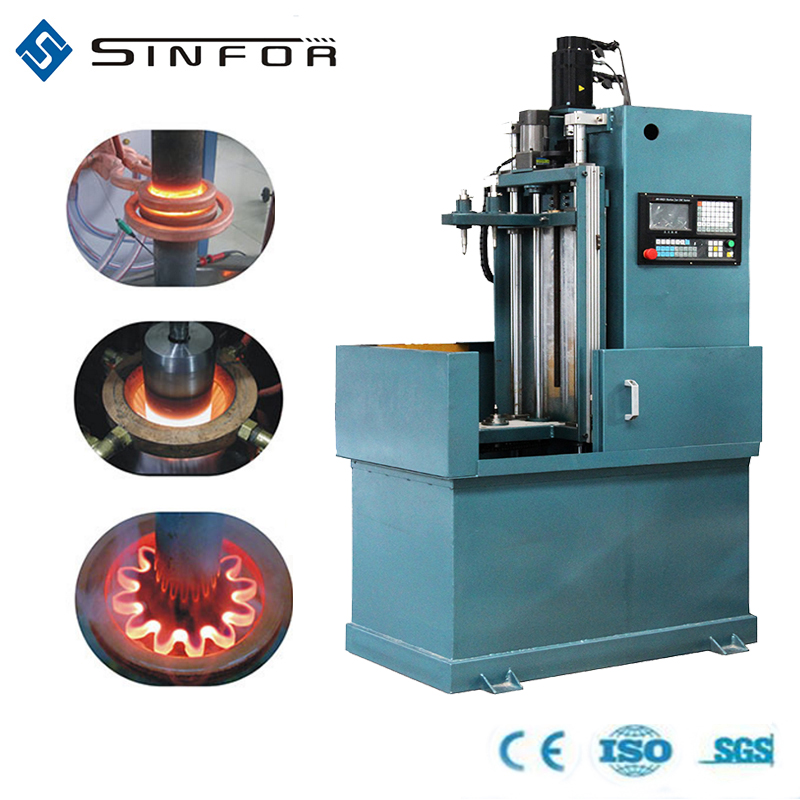 Company Profiles: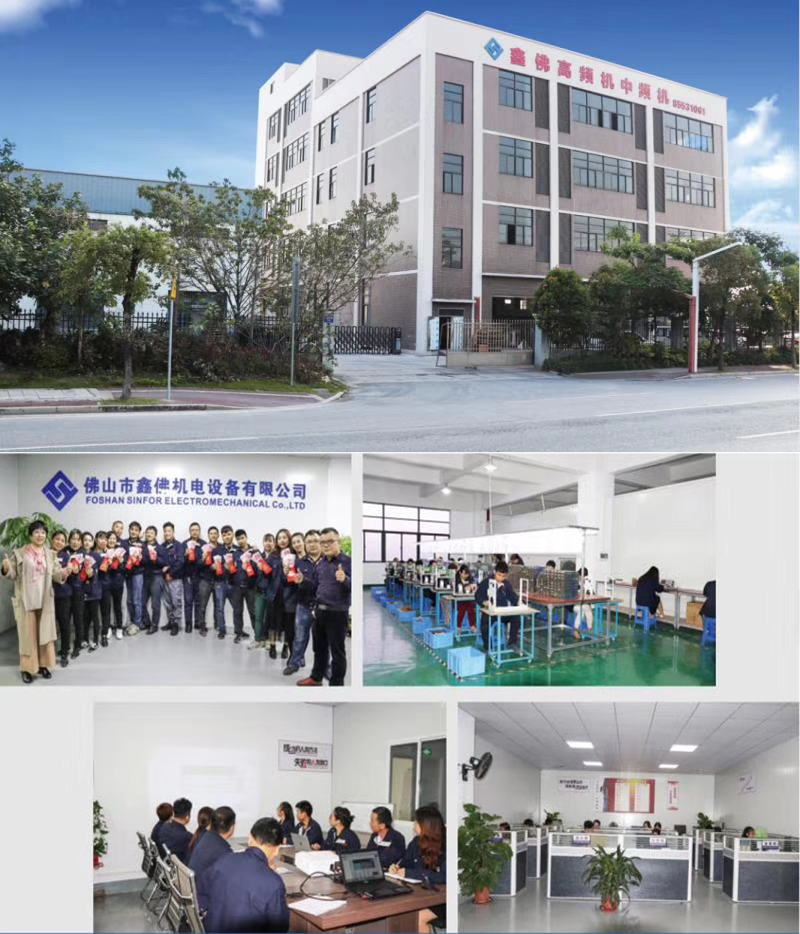 Sinfor is specialized in researching and manufacturing of solid-state medium to ultrahigh
frequency induction heating equipment and systems. our company was established in 2000 and is privately held. Precision induction heating solutions are our specialty. Use induction heating to improve the efficiency and effectivenessfor industrial heating process. That are used for application such as brazing. annealing,hardening,forging, meltin,shrink fitting etc.
Our induction heating machine are Available from 8kw to 1500kw deliverable output power with 0.5KHZ to1.1MHZ operating frequency range. All our products are divided into four major series according to the frequency:
Medium frequency series (abbr. MF series):0.2-20KHZ
High frequency series (abbr. HF series):30-100KHZ
Super-audio frequency series (abbr. SF series):10-40KHZ
Ultrahigh frequency series (abbr. UF series):100-1100KHZ
Sinfor is sincere in cooperation with people from all walks of life to create jointly great success.
Foshan Sinfor Electro-Machanical Equipment Co., Ltd.
Building 1, No. 7, Bo'ai East Road, Area B, Shishan Industrial Park, Nanhai District, Foshan City,Guangdong Province, China,528000
Tel: +86 13302801519
FAX: +86 0757-85576875
Whatsapp: +86 13302801519
Skype: kate-cujinyuan
Email: Kate@sinfor198.com
Website:www.sinfor198.cn / www.sinfor198.com
Application video: https://youtu.be/UjyGRdZLwX4